Frequently Asked Questions
What is The Little Club™?
The Little Hairstyle Club™ is a subscription service that empowers parents with hair skills so their daughters can feel beautiful and included.
What's inside a Little Hairstyle Club™ box?
Inside each box is a step by step guide to a hairstyle and everything you need to complete that style for example hair ties, hair accessories, salon professional hair product, pins, a positive affirmation to share and talk about, sweet treat, a cute accessory and a small surprise for your daughter. 
How much does it cost?
A single box and month to month subscription is £25.99 per box. 
A 3 month subscription plan is £24.99 per box.
A 6 month subscription gives you 10% off the total cost.
A twelve month subscription plan gives you 15% off the total cost.
All subscriptions are recurring unless you cancel at least 24hrs before your renewal date.
Can I make a one time purchase?
Yes you can, we have special occasion boxes, past boxes and our introductory box.
Can I give a box or subscription to someone?
Yes of course, that's a kind and thoughtful gift.
What is the cost of shipping? 
The shipping is on us and no cost to you if you live in Great Britain.
When will we receive our A Little Hairstyle Club™ box?
We have two shipping days per month, the second and fourth Wednesday. Your shipping date will depend on the date that you sign up. We didn't want you to wait a whole month if you missed the cut off date so we have two shipping days. 
What age range is the box suitable for?
The age best suited for a Little Hairstyle Club™ box is 3 - 8. (Age 9 - 12 coming soon).
Do I need additional items?
You may need the basic tools but most other items are provided in The Little Hairstyle Club™ box. Your first box includes an Eco friendly bamboo hairbrush. 
If you purchase any special occasion box without subscribing you may need a basic item of your own.
Is The Little Hairstyle Club box™ ethical?
We believe in recycling, reusing and composting. Our boxes can be recycled, reused, upcycled or composted. We are working towards being single use plastic free. We support British companies where possible and constantly look to working with eco materials and local makers. We only use animal friendly hair products which is important to us.
Do you ship worldwide?
We currently only ship within the United Kingdom.
Why is there a cut off date?
Having two dates per month allows us to pack all the boxes and ship in a timely manner. If you miss the cut off date for that particular week you roll over into the next shipping date. This means you wait less time for your first box which we feel is important.
What date are boxes shipped?
We have two shipping days per month, the second and fourth Wednesday. The cut off date for shipping is the second and fourth Monday of the month. 
For example, if you subscribe before the second monday of the month your box will be shipped on the second Wednesday. If you subscribe after the second Monday your box will be shipped on the fourth Wednesday of that month.
Can I buy a box from a previous month?
Yes you can, past boxes are separate to subscriptions and an additional cost, if you see something you like please let us know and we'd love to help you.
How will my box be posted?
Boxes are posted using Royal Mail.
Will my box fit in my letterbox?
Box measurements are 9 x 6 x 2 inches.
What is your cancellation policy?
ALL SUBSCRIPTIONS ARE RECURRING. You must cancel your subscription at least 24 hours before your renewal date. We will be sad to see you leave and hope that this doesn't happen.
How do I cancel my subscription?
You can cancel your subscription through the website and logging into your account at https://www.thelittlehairstyleclub ™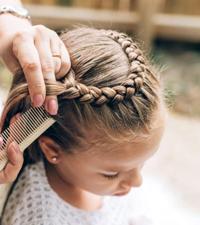 Free top tips to help with your daughters hair.
Plus a free bonus ponytail hack which will
elevate you to hair hero.